Back in the day, updating the slightest amount of content on your website required knowing some code or having a developer in-house.

But, the paradigm has shifted. Today, this has become a whole lot easier. All thanks to platforms like WordPress. 
More than 43% of websites on the internet are made on WordPress. From small businesses to large corporations like Sony and New York Times, all have trusted WordPress with their websites. 

So why is WordPress so immensely popular among the masses despite having some solid competitors? What are the benefits WordPress offers to its customers?
We listed the ten advantages of WordPress development that make it a no-brainer in the industry.
1. Intuitive and User-Friendly Interface
Since WordPress is a CMS, you get an intuitive admin dashboard that allows you to manage almost everything on your website. The dashboard is pretty simple, straightforward, and easy to use. 
All your management options are located on the left side of your dashboard. From there, you can do things like :
See your website analytics

Access your contact forms

Add, delete or change access of users on your website

Activate or deactivate plugins

Add new themes

Update content on your website

Access media, posts, and comments

And do much more with a few simple clicks 

And the list goes on…
2. Content Management on WordPress is a Cakewalk
WordPress, being the most popular content management system(CMS), offers tremendous features that make uploading, editing, managing, and publishing content extremely convenient. 
It comes with a built-in blog feature, which saves the hassle for businesses by creating a separate one. The blog feature of WordPress provides the ease of publishing blog posts on your website with just a few clicks. 
Moreover, you can simplify everything by assigning different roles to different people like authors, managers, and admins, all while limiting their freedom on your site. 
Depending on the page builder used for your WordPress website, you will get a nice and simple editor to edit your page content. 
The most optimized WordPress page builders offer the possibility of drag-and-drop features that allow teams to be completely autonomous.
A library containing all the key sections of your pages can be created so you can replicate them in a few clicks and add them to your other pages.
3. WordPress & WooCommerce combined are a Winning Formula for an Ecommerce Store
The e-commerce industry is booming by leaps and bounds, and many new e-commerce websites are being created daily. 
But why does WordPress has a distinct advantage when it comes to creating an e-commerce store? WordPress allows you to transform your website into a powerful e-commerce store in one click by using a WP plugin named WooCommerce. 
With over 75M+ downloads and 5M+ active installations, almost 42% of e-commerce websites on the internet today are powered by WooCommerce. 
Using WooCommerce on your WordPress site, you can expand your audience by integrating marketing tools and social media channels such as FaceBook, HubSpot, Google Ads, Mailchimp, etc. 
It has all the necessary e-commerce products and customer management functions to run your daily operations.
Moreover, WooCommerce offers more than 100 payment gateways including Stripe and Paypal, which can make the purchasing experience more seamless for your customers. 
On top of everything, WooCommerce also has an app for both Android and iOS that enables you to manage your store on the go and even notify you each time you make a sale. 
4. Plugin Integration Made Easier
You can find all the basic elements to create a website on WordPress. However, if you want to integrate some specific functions on your website, you may need to install a plugin to serve this purpose or ask the help of WordPress developer experts. 
Plugins are pre-defined, pre-coded, and pre-designed software add-ons that can enhance the functionality and capability of a website. They are also used to perform a specific task on a website. 
For instance, if you want a payment gateway on your website, you may need to install a plugin for this functionality like Swipe or Monetico, for example. Similarly, if you want to integrate a contact form into your website for your customers, you will need a plugin for that too. 
The good news is that you can find thousands of plugins on WordPress that are free and super easy to integrate into your site. Third-party developers will sell the more advanced features for a one-time or yearly fee depending on the complexity of the functions.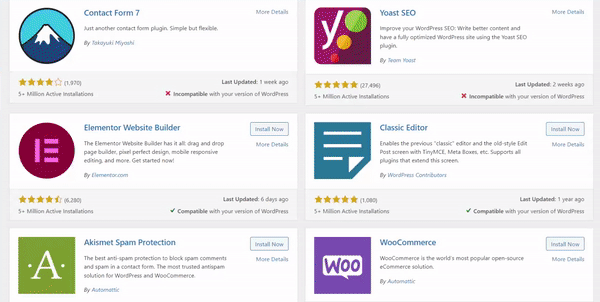 So whether you want to get an insight into the analytics of your website or ensure that it is up to the mark with SEO, there is a plugin for everything, and that too with easy integration. Even your favorite marketing tools like your CRM have their dedicated wordpress plugin version so you can seamlessly synchronize your data between the different platforms.
However, if you can not find the right plugin to integrate according to your business needs, you always have the option of hiring an expert to get the job done for you. But of course, this will cost you some additional money.
But always ensure not to have too many unnecessary plugins integrated into your website as it can slow down the performance and negatively impact the user experience on your website. 
5. SEO and WP Go Hand in Hand
You want people to find your site(web pages) on search engines so that you can drive traffic to your website. It means your website should be easy to crawl through for search engines like Google, Yahoo, Bing, etc. 
That is why search engine optimization(SEO) has become a crucial part of online business success. However, the good news is that WordPress is built and improved from time to time by keeping SEO in mind. 
Frankly speaking, search engines love websites built on WP. WordPress sites make SEO task management a breeze. With its SEO-friendly structure, search engines face no hassle while reading and indexing WP site content. 
WP can make SEO easier for you by simplifying the use of heading tags, keywords, internal & external links, and most importantly, SEO plugins like Yoast, Rank-Math, etc. 
You can install an SEO plugin directly on your website and optimize content accordingly, all from your WordPress back office. 
6. WP Offers Thousands of Free and Customizable Themes 
Although all our websites are made from scratch, and we never use pre-existing themes, we have to credit what WordPress offers when it comes to very tight budgets.
The theme is the interface of your website with which your customers interact. Therefore, having a relevant yet compelling theme is necessary if you want to drive sales for your business.
If your website needs are simple, you are in luck because, no matter in which industry you operate, WP offers a wide range of free theme options for brands or companies of different scales. WP has its own set of 9K+ free themes and a total of 31K+ themes, including paid ones, in its theme repository.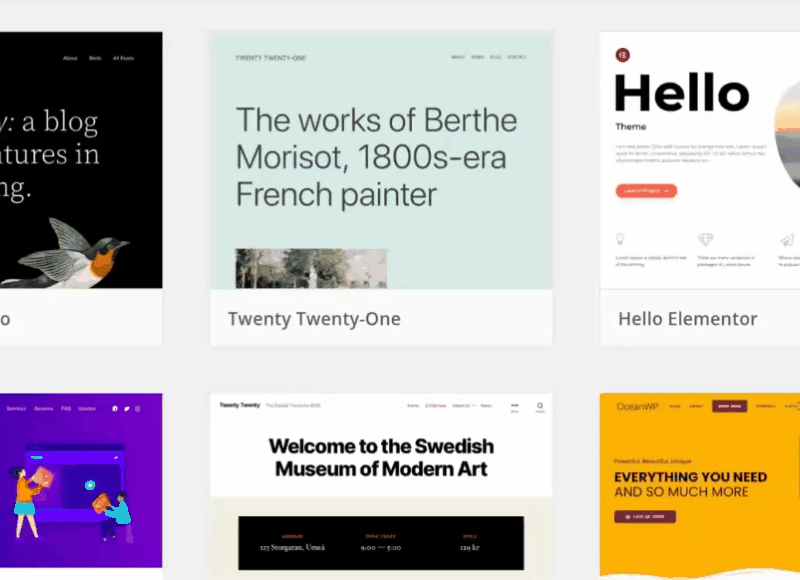 These options allow you to select the best theme that suits your business. And the best part about WordPress themes is that they all are pre-designed and coded. It means that there's no need for you to dig into your website's code and change everything. 
The free themes option is handy, especially on a shoestring budget. However, if you want a little extra, you can also buy premium themes which can cost anywhere from around $30 to $90. 
After installing a theme, you can customize it according to your business or individual needs. 
So no matter your industry, you can find a WP theme for it.
7. WordPress is an Open Source CMS
One of the great advantages of WordPress development is that it is an open-source CMS. In other words, it gives developers all the freedom to do all kinds of customizations regardless of the complexity. 
Any software whose source code is available for further modification is called open-source software or platform. WP is also an open-source platform, and it is being improved now and then by professional developers all over the globe. 
With the changing needs of consumers and businesses, Professional developers worldwide are constantly adding new features to the platform. This includes new and enhanced plugins that make WordPress easier to use and adds to the overall user experience. 
Moreover, developers and designers often partner up to create compelling themes for improving the user interface and staying up to date with the latest design trends. 
With a strong community of developers and the open source nature of the platform, WordPress is getting better and better with every passing day. 
8. WP Has Its Community That Provides Help for Free 
Since WP is an open-source platform, it has a large community that offers extensive support related to WP. 
The WordPress community has millions and millions of members having good knowledge about WP. These members help each other by answering all WP-related queries. There are several different WP community forums on which you can find answers related to your problems quickly. 
Moreover, you can also post your queries and get answers from multiple users in no time. For example, if you face site migration issues on WordPress, you can either find the answer on community forums or post your question/problem and expect an answer within 24 hours from the members. 
These forums can save time you would spend otherwise digging for the solution for your site problem. 
You can also find tons of videos explaining how to use WordPress, solve specific problems or even design a WP website from scratch. Furthermore, the documentation is also quite extensive. 
9. WP Sites Are Scalable
When you start a business, you might not need more than two or three pages on your website. But as your business grows, the need for expanding your website also increases. 
Lucky for you, WordPress allows users to add as many pages as they want without compromising the working of your website or its original structure. 
You can make changes to your WP site according to the changing needs of your business. You can extend its functionality by adding more plugins, duplicating existing pages, or even reusing existing sections and styles which can be quite cost-effective!
10. Mobile Friendly
Do you know that more than 50% of website traffic comes through mobile devices? This number is expected to increase further and go up to 70% by 2025. 
Due to this reason, mobile-first rendering is used by search engines. 
In case your website is not mobile-friendly, it can have an impact on your rankings. 
This tells us that websites need to be optimized for mobiles as well. And, guess what? WordPress is also mobile responsive and friendly. 
The FREE and paid themes it offers are perfectly compatible with mobile devices, and good custom wordpress developers will ensure that your website remains optimal for all devices.
Conclusion

From the ease of managing your content without any hassle to accessing premade plugins that will allow your website to benefit from powerful functions, there are just so many advantages of WordPress development. 
Although WP can also be used by a non-IT professional to design a very basic website and a premade theme, you will need expert hands on board for advanced customizations and animations or a complete tailormade website that will make your company stand out.  
Are you interested in a new WordPress website? Book a free 30 minutes consultation with us now so we can guide you on implementing your next wordpress website!